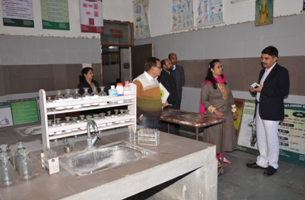 DEPT. OF KRIYA SHARIR
Dept. of Kriya Shareer is concerned with the understanding of normal functions of the human body through Ayurvedic perspective. This department has a full-fledged Laboratory and practical hall for bio-chemical experiments and investigations. We have Well equipped lab with all sophisticated equipments. he department has a museum with good number of Models, Specimens and Charts.
DEPT. OF RACHNA SHARIR
Department of Rachana Sharir deals with the knowledge of anatomy of Human Body which is essential for surgical treatments. The Rachana sharira department has a museum with good number of Charts, Specimens and Models. The dissection hall is spacious and separate room is available to store the cadavers and dissected parts. Anatomy classes and dissections are handled by experienced professors.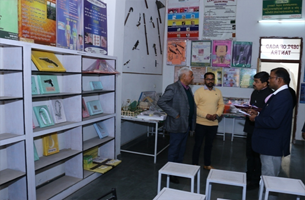 DEPT. OF AGADATANTRA & VYAVAHARA AYURVEDA
Department of Agadatantra & Vyavahara Ayurveda deals with Toxicology, forensic medicine and medical jurisprudence. Agada tantra or toxicology department gives the details of poisonous substances as well as antidote to poisons. It has well established museum with different types of specimens and instruments. The department faculties are trying to develop this department to be a clinical department which can cater the casualty services to the needy.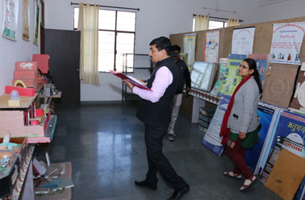 DEPT. OF SWASTHA VRITTA
A large, well ventilated, well equipped & peaceful hall is set in the college to train the scholar's in yoga practice. Regular yogabhyasa is conducted by trained and expert yoga master and this yoga helps the students to bring healthiness in both body and mind. This department has holistic approach to preventive medicine.
DEPT. OF DRAVYAGUNA VIJNAN
For this a well furnished museum has been established in the department which is enriched with the large number of the samples of scare herbal drugs & photographs of various such drugs. For the identification of drugs at cellular level, procedures of pharmacognosy are being adopted. For the identification of green herbal drugs, a herbal garden containing hundreds of plants of various species of herb, shrub, climber & trees has also been developed. This department maintains an herbal garden spread in three acres of fertile land consisting of 262 species of medicinal plants with more than 1263 plants.
DEPT. OF RASASASTRA & BHAISHAJYAKALPANA
This department has a well equipped pharmacy for the preparation of medicines. Enough number of Charts, models and raw drugs are available to facilitate the students to learn through practicals. Ras shastra & Bhaishjya kalpna introduces the scholars to the identification of minerals, ratnas & upratnas & preparation of various drugs. Museum containing large number of single drugs, minerals, prepared drugs with their detailes is the area of special interests for this department. A large tutorial room has also been developed. Furnace section & Pharmacy equipped with different machines for the preparation of drugs is another speciality where students get knowledge about drugs preparation.
DEPT. OF KAUMARABHRITYA
Department of Kaumarabhritya deals with the medical care of infants, children, and adolescents. This department conducts "School Health Programme" in various schools to ensure a health and safety of childrens. This department is well known for treating Kuposhana Janya vyadhi like Malnutrition, Delayed milestones, Mentally challanged, Muscular dystropy.
DEPT. OF PRASUTI TANTRA & STREE ROGA
This department has well equipped labour room where delivery is conducted by the help of our experienced professionals. This institution is well known for treating female infertility, Pradara (obstinate vaginal discharges), Garbhini paricharya (antenatal care), Sutika paricharya (Postnatal care), Rajonivruttikalaja upadrava-(Menopausal syndrome), Artava dosha (Menstrual disorders).
DEPT. OF SHALAKYA TANTRA
Department of Shalakya Tantra deals with diseases of the Eye, Ear, Nose and throat. This department senior faculties take care of students by imparting the knowledge by utilizing the well equipped operation theatre with modern instruments like ophthalmoscope, otoscope, tuning form, slit lamp etc. Treatments like tharpanam, putapakam, nasyam, anjanam, aschothanam, sekam, karnapooranam are done.
DEPT. OF PANCHAKARMA
Almost all the panchakarma procedures are conducted in our hospital on OP and IP basis. Panchkarma is the cornerstone to Ayurvedic management of disease. Panchkarma is the process which gets to the root cause of the problem & re-establishes the essential equipments for Panchkarma set up & required no. of Therapists also. Our college hospital is providing all the procedures like kati basti, janu basti, griva basti, vaman, virechan, pizzichal, shirodhara, sarwang swed, nadi swed, nasya etc.